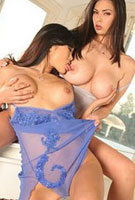 Couples connect at ShareNation Events. As a matter of fact, it's very difficult not to. Maybe it's the sexy people who make our venues successful. Possibly it's the fact that we have the most new couples in the lifestyle selecting ShareNation as a destination. Most certainly though, we give credit to our members, all of them - for we all share a same vision, to come together as a team, a collaboration of lifestyle couples and taking our evening to an erotic level like never seen before.
ShareNation couples will be first to tell you that we don't host parties. WE HOST EVENTS - and every event grows larger and larger. Not everyone can get into a ShareNation Event though, we do screen. However, we are diverse, we generally give couples a chance, and find the most engaging couples are the one's who attend because they cherish their time and literally don't want to waste any of it.
ShareNation Events are attendee-focused - we are a prepay company offering the most savings for those who commit to our venue early rather than later. We offer a most amazing refund policy and are the only lifestyle company that truly offers an event money back guarantee. We are a member-driven company meaning you will be required to complete a brief application when you first arrive - we DO NOT accept cash-at-the-door. You must be approved prior to entry and agree to club terms and conditions.
And if you are on the fence with attending a ShareNation venue, take your time. We're in no rush either. Our venues go on because they're spectacular and sexy. Please feel free to visit any other lifestyle company and when you want something different, a higher level of quality and venues that will make you remember why you are on this journey, that's when you should give us a visit. We look forward to seeing you soon!